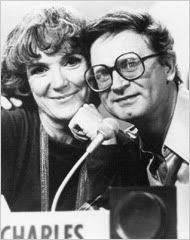 Hey Kids,
One of my favorite drinking pals has passed away. Brett Somers and I worked together on a Love Boat episode and became fast friends. She was a one of a kind gem and she will be missed.
I recall one time being invited to her house for a party when she was married to Jack Klugman and I had a blast. It was the seventies kids and it was a key party if you get my drift. That's when everyone swaps partners for a bit of the sex... It was my first and unfortunatly I picked Tony Randall....I loved Tony but he wasn't interested in banging me so we grabbed a cocktail and made moaning and groaning noises...I think he wanted Jamie farr from MASH but didn't have the balls to say so... He used this story for years to say he was straight...mmmm.
Anyway Brett was a blast and she was funny as hell. It was her natural state of being. She didn't have to try and be funny, she just was. Comic Genius!
The Pic I posted is of Brett and Charles Nelson Reilly, a great comic duo...
If you get a chance check out a "Match Game" episode or "The Odd Couple".
She was a real dame.
Kisses, MargOH!